About Filefox.cc
Filefox.cc is a cloud storage platform that allows online users to upload, download and share their files securely. Interestingly, you can store and manage a wide range of files and documents such as videos, images, flash files, and audio without worrying about the integrity of your data.
What is more amazing is that Filefox.cc eliminates the need to use physical storage devices such as flash disks, pen drives, portable hard disks and CDs to store your files or documents. This comes in handy for businesses and individuals who want to store and share large files quickly and conveniently, without investing in expensive hardware peripherals.
User Interface
Filefox.cc has a very intriguing but simple user interface. All the menu options are well-arranged and easily navigable. However, unlike other cloud storage platforms that allow you to upload files as a guest, Filefox requires you to register before you can upload or download any files. Fortunately, the sign-up process is extremely fast and simple. It only requires you to enter your email address and create a password. You also have to enter a capture code to ascertain that you are not a bot.
Like any other international file hosting website, Filefox is multilingual. The platform accepts up to three different languages, including English, German and Russian. You may switch to your preferred language whenever you want by clicking on the settings button, next to the login section.
Operation
Once registered, operating your Filefox account is as easy as 1, 2, 3. The best part is that you can access your account from any device, at anytime. Moreover, the platform supports a wide range of devices, including PCs, tablets, laptops and mobile phones.
Security
In terms of security, Filefox.cc is one of the most secure cloud storage platforms. Firstly, it uses a secure connection to ensure that all your files are safe during the process of uploading or downloading. Furthermore, you cannot view other users' files or documents without their authorization thanks to the secure encryption mechanisms that Filefox.cc uses to uphold data integrity. In case you need to download a file from other users, you have to request for direct permission. Once authorized, the user will send you a direct link to their files.
Importantly, Filefox.cc guarantees not to share your personal info with third party entities as stated in their privacy policy. You can rest assured that your email address or private files will not find their way to unscrupulous internet users.
Customer Support
Unfortunately, Filefox.cc does not have exceptional help desk services. The platform does not have live chat or a support phone number. You can only contact customer support via email ticketing or through their social media handles such as Facebook or Twitter. Alternatively, you may send a regular mail to the address provided on their website. However, this might take a long time before you receive a reply.
Filefox.cc Free Membership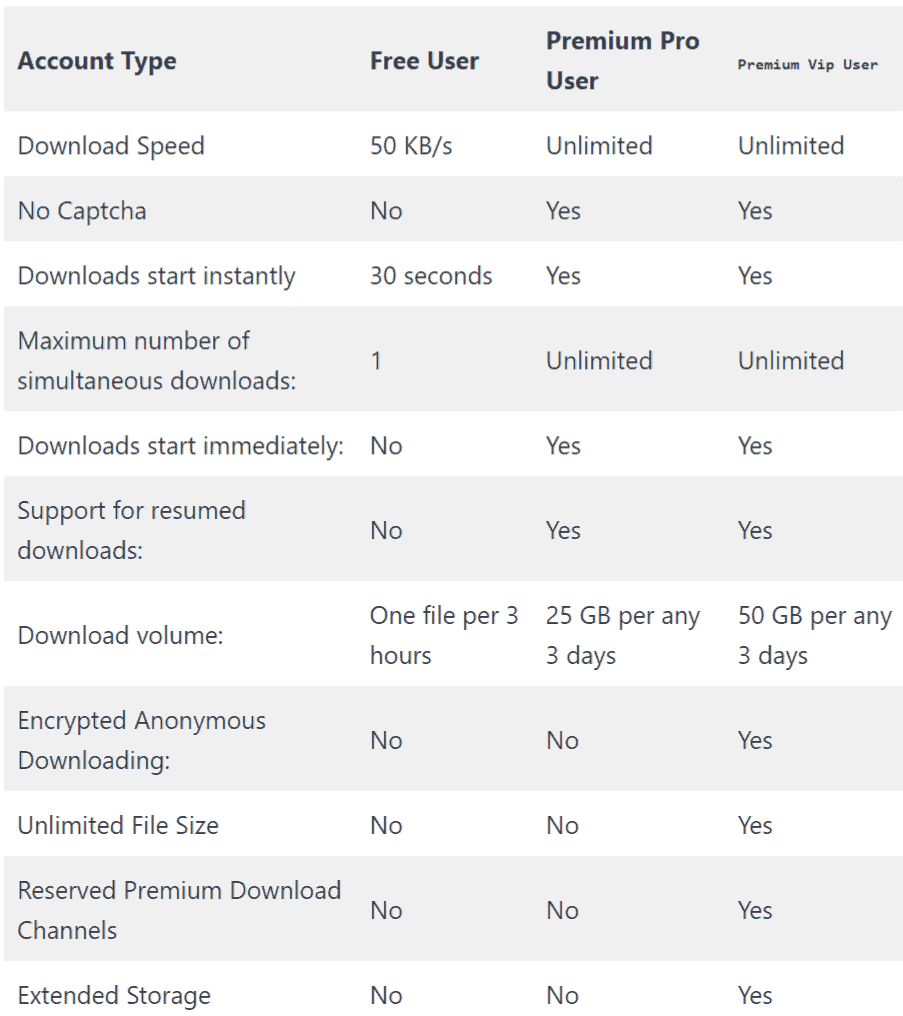 Filefox.cc is absolutely free to join. However, free membership comes with numerous limitations. Even though you will be able to upload, download and share files as usual, you have to contend with limited speeds. Furthermore, whenever you want to download a file, you have to wait for the timer to run down the clock and then enter a Captcha code before you can get the download link.
Another annoying downside is that you cannot resume an interrupted download. This means that you have to start the entire process all over again in case of any interruption. In addition, you also have to contend with dozens of irritating adverts popping up every time you initiate a download process.
As if that is not enough, members are only allowed to store their files for up to 30 days, before they are deleted automatically from the Filefox.cc server. To avoid all these frustrating restrictions, it is prudent that you upgrade your account to premium membership. Sounds good, right!
Filefox.cc Premium Membership
A Filefox.cc premium account offers dozens of exciting features. Unlike free membership, you should not expect any restrictions as a premium member. You can upload and download files at anytime from anywhere without any delays. Besides, you are not required to enter any Captcha codes as it is the case with free membership.
Furthermore, you can download up to Unlimited files simultaneously without compromising the download speeds. This allows you to upload/download large files without spending much of your time on the same project.
Another benefit of premium membership is that they are no annoying adverts to contend with. You can manage your account seamlessly without having to endure irritating adverts.
Most importantly, Filefox.cc premium supports download resume. This means that you can resume your download at any time in case of any interruptions.
Filefox Premium Account Rates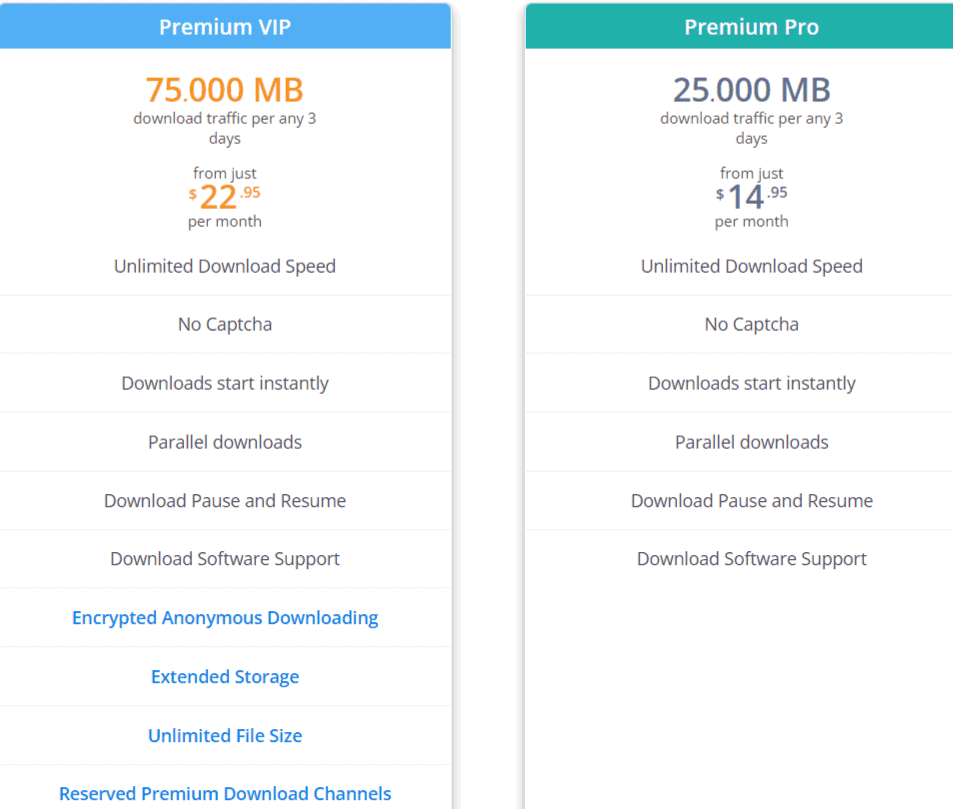 In terms of pricing, Filefox.cc premium is extremely affordable. The company offers reasonable price plans to suit your budget and file hosting needs. Here are the price plans offered by Filefox.cc:
| | | | |
| --- | --- | --- | --- |
| 30 Premium Days | 60 Premium Days | 90 Premium Days | 365 Premium Days |
| $14.95 | $44.95 | $59.95 | $119.95 |
You may pay for premium membership using a variety of options including Bitcoin, Litecoin, Webmoney, PayPal and major credit cards among others.
Conclusion
Filefox.cc is an excellent file hosting provider, despite the fact that it is still relatively new in the cloud storage space. The company offers exceptional services for both free and premium members. However, to enjoy exceptional benefits and avoid the restrictions associated with free membership, it is only advisable that you upgrade your account to premium membership.